Mobile Application Development in India
Ignite your business through
Apps
Customize your mobile app with features that resonate with your
brand and target audience.
who we are
Trusted Partner for
Personalized
Mobile App Development
Our mobile app development team is dedicated to delivering innovative solutions to meet your unique business needs. We understand that a successful mobile app requires more than just coding and development - it requires a thorough understanding of your business goals, target audience, and user experience.
Why You Need Mobile Application Development
Mobile Application Development - The
Key to Reaching and Engaging Customers
Mobile apps allow businesses to reach customers 24/7. Mobile apps provide tailored experiences, push notifications, and in-app messaging to improve user engagement. A mobile app may help brands stand out.
Enterprise mobile apps can streamline and boost productivity. Businesses may build client loyalty and retention with personalized mobile experiences. Businesses can minimize operating and efficiency costs with the correct mobile app development strategy.
Mobile apps have a higher retention rate than mobile websites, with an average retention rate of 32% after 90 days.
Mobile apps have a higher conversion rate than mobile websites, with an average conversion rate of 1.5-2%.
On average, mobile app users spend 201 minutes per day using apps. The number of mobile app downloads is expected to reach 258 billion.
Our Mobile App Development Services
Revolutionize Your Business with Our
Custom Mobile App Development Services
Get your mobile app development project started today!
Schedule a consultation with our experts
Why Choose Us
We Transform Your Vision into Reality with
Our Mobile App Development Services
Manak Analytics and Development creates high-quality, personalized, and user-friendly mobile apps for your business. Our expert mobile app developers can build high-quality apps for your business. Mobile app development needs vary by business. We customise solutions to your needs and goals.
Successful partnerships require frequent and clear communication. Our team will keep you informed and answer your queries during development. All our mobile app development initiatives prioritize user experience. We create intuitive, easy-to-use, and engaging mobile apps for the end-user.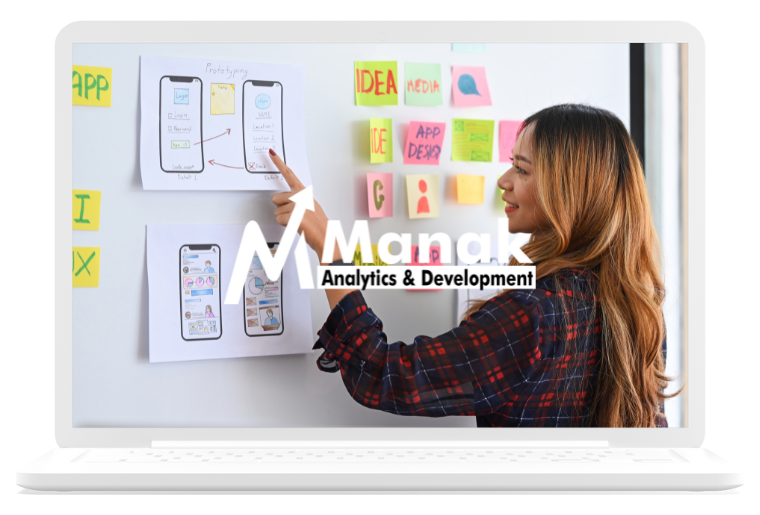 95
+ clients across the globe
Frequently asked questions
Mobile application development is the process of creating software applications that run on mobile devices, such as smartphones or tablets. It involves designing, developing, testing, and launching mobile apps that meet the needs of users and provide value to businesses.
We specialize in developing mobile apps for both iOS and Android platforms, using programming languages such as Swift, Objective-C, Kotlin, and Java.
The cost of mobile application development can vary depending on a range of factors, such as the complexity of the app, the features required, the platform(s) it needs to be developed for, and the level of customization needed. We work with our clients to provide customized quotes based on their specific needs and requirements.
Yes, we can integrate third-party APIs into the mobile app, such as payment gateways, social media APIs, or location-based services, to provide enhanced functionality and features.
The timeline for developing a mobile app can vary depending on the complexity of the app, the features required, and the platform(s) it needs to be developed for. Typically, the development process can take anywhere from a few weeks to several months.
Yes, we can help with the process of submitting your mobile app to the app stores, such as Apple's App Store or Google Play. We will guide you through the process and ensure that your app meets all the necessary requirements.
We offer ongoing support and maintenance services for the mobile apps we develop, which includes fixing any bugs or issues that may arise, as well as adding new features and functionality as needed.
We follow industry best practices to ensure the security of the mobile apps we develop, such as encrypting sensitive data, implementing secure login and authentication systems, and conducting regular security audits.
Get in Touch
For Expert Mobile Application Development Services.