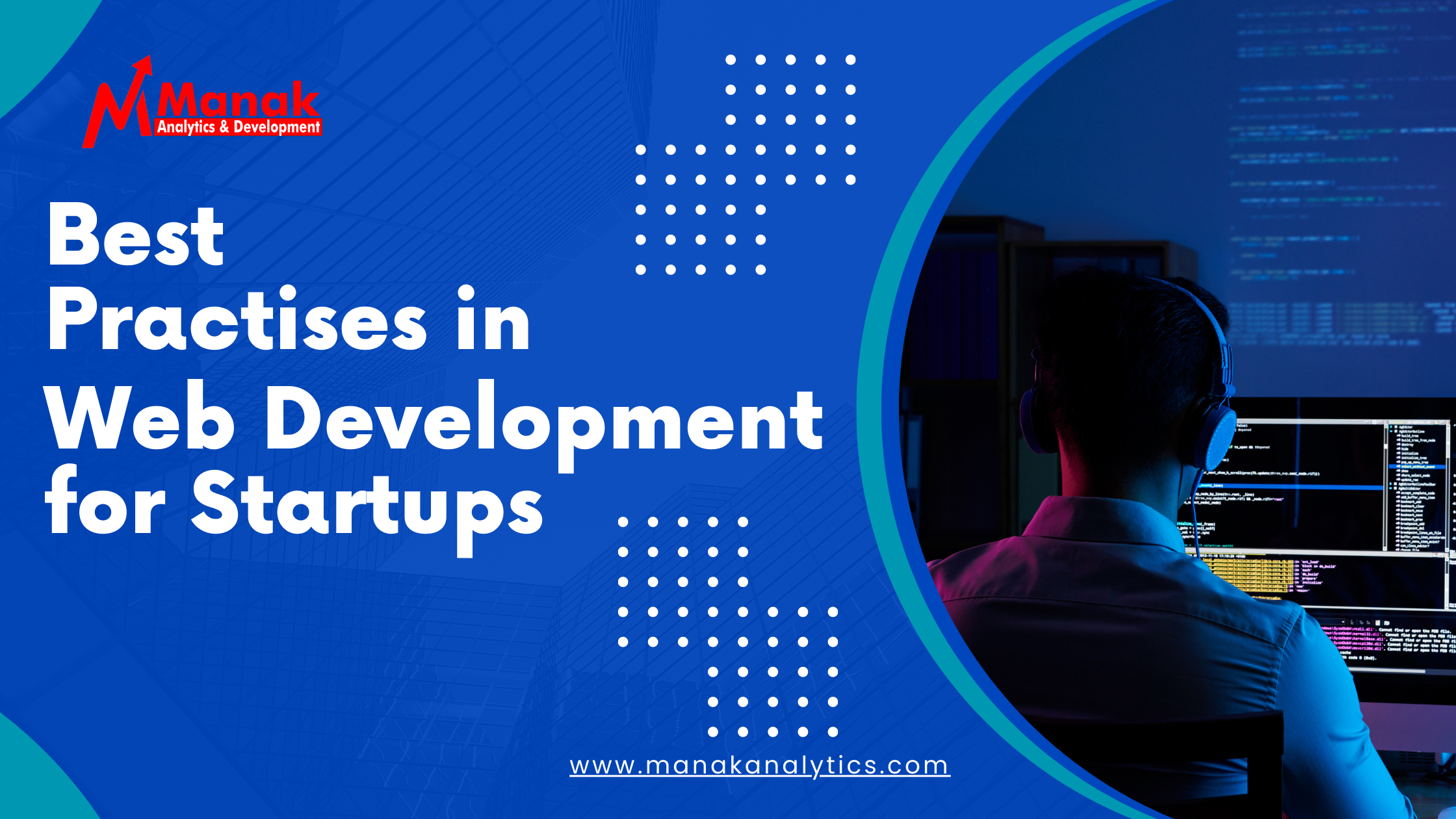 In the ever-changing and fast-paced digital world, having an online presence that is strong and reliable is crucial for new businesses looking to be successful and thrive. In a world where the internet functions as an important channel for both business and customer interactions, development on the web is emerging as a crucial element. Making an engaging and effective online platform doesn't just showcase your company's image but also builds trust, boosts customers' engagement, and ultimately aids in your business's growth.
The process of transforming an original idea into a successful business begins with a well-designed website or application. However, the process that is web-based development may be difficult with an array of designs, technologies, and user expectations to think about.
Why website is crucial for startups?
Startups operating within the highly competitive business environment of India and engaging with the best web development company in India are of paramount importance. This partnership helps entrepreneurs to create a powerful online presence that is a hit with the people they want to reach and sets them apart from the rest of the market.
In today's digital world websites are more than an web address. It functions as a storefront that embodies the core of a startup's identity. This online portal becomes the primary contact point for potential customers, which makes a captivating web design and seamless function essential to leave an unforgettable impression.
A well-designed website can build confidence and credibility. It's a powerful platform for storytelling that allows startups to present their mission, vision, and services effectively. Since consumers are increasingly dependent on online platforms to get information, a properly designed website is essential for creating relationships and establishing credibility.
How to establish a good online presence
The need to establish a solid web presence is vital for business in the digital age. This is a step-by-step guide to how to get there:
Define your brand identity: Clearly define your brand's mission statement, values, and distinctive selling points. This will be the basis for your online presence, and help to create a consistent message for all your platforms.

Create a professional website: Create a well-designed and user-friendly website that represents the brand's image and offers important information to users. Be sure that it's mobile-responsive, fast-loading, and simple to navigate.

Improve Search Engines (SEO): Implement SEO strategies that will increase the visibility of your website through search engines. Search for relevant keywords, improve meta tags and headers, as well as content, and concentrate on establishing quality backlinks.

Produce Quality Content: Regularly post quality and relevant content on your Blog or News section. It could be infographics, articles, videos, and many more. Quality content helps establish your credibility within your field and draws people to your site.

Engage with Social Media: Choose the social media sites where your intended audience is active, and then set up profiles on these platforms. Post regularly, interact with your followers, and utilize social media platforms as a way to build brand awareness and increase interaction with customers.

Utilize Email Marketing: Build an email list of people who are interested in your services and regularly send email newsletters or promotions. Marketing via email helps you remain in contact with your target audience and keep them updated about the latest products and services you offer.

Make use of online advertising: Use online advertising platforms like Google Ads or social media advertisements to reach a larger public. These platforms let you concentrate on certain demographics and areas of interest.

Participate in online Communities: Participate in relevant online forums, groups, and other communities that are relevant to your business. Offer valuable insight, respond to questions make yourself known as a professional source.

Guest Blogging and Influencer Collaborations: Write guest blog posts for trusted blogs in your field or collaborate with influential people. This helps expose your brand's image to new audiences and boosts your credibility.

Check Online Reviews: Monitor regularly online feedback and reviews regarding your business. Respond to any negative feedback quickly and professionally. Positive reviews can help boost your credibility.

Consistent branding: Maintain a consistent brand image across all of the online platforms. This means using an identical image, color scheme, and voice tone to build a unified and easily identifiable brand image.

Bring Value and Address issues: Focus on providing added value to your customers. Find solutions to their problems, respond to the questions they have, then present solutions that will truly help them.

Engage Your Customer: Respond to comments messages, inquiries, and messages promptly and in a respectful manner. Engaging with your audience creates an atmosphere of belonging and community.

Measure and adjust: Continuously analyze the effectiveness of your strategies for online presence. Utilize tools such as web analytics and social media insight to measure metrics and modify your approach in response to the data.
What are the Best Practices in Web Development for Startups?
Certain, these are some of the most efficient techniques in web development that are tailored specifically for entrepreneurs:
Specific purpose and target audience identification: Before diving into the process of developing your website, identify your startup's goals and objectives. Also, identify the intended audience you intend to be able to reach. A clear understanding of your audience can help determine the style of your website, its content, and the functionality of your site to be able to meet their preferences and needs.

Responsive Design: Your website must be optimized for different sizes of screens and devices such as tablets, smartphones, and desktops. A responsive design offers users a consistent experience across all types of devices. This is vital to keep visitors engaged and loyal.

User-centric navigation: Create a user-friendly and intuitive navigation system. Users should be able to locate information quickly, using an orderly structure of content categories and pages. This increases user satisfaction and keeps them interested.

Fast loading speed: Speed is paramount in the digital world. Optimize images, apply efficient code practices, and use the power of content delivery networks (CDNs) for ensuring that your website loads fast. Websites that load slowly can result in high bounce rates and poor user experience.

Quality Content: Make engaging content and create relevant material that connects with your intended viewers. From concise product descriptions to captivating blog posts, quality content keeps your customers in the loop and keeps them engaged, while making your company an authority in your field.

SEO integration: Implement search engine optimization (SEO) strategies to boost the visibility of your site to search engines. Find relevant keywords, optimize headers, meta tags, and content, and concentrate on creating high-quality backlinks that draw organic traffic.

Security measures: Prioritize website security to secure the user's data and keep confidence. Install SSL certificates, update regularly plugins and software, and implement safe coding practices to protect against hacker attacks and vulnerabilities.

Mobile-First Methodology: Given the prevalence of mobile browsing, create your site with a mobile-first perspective. Start with the mobile version, and gradually increase the size for larger screen sizes. This method ensures an unbeatable user experience on all platforms.

Basic Forms as well as Calls for Action (CTAs): If your company is a source of user interaction, create simple and easy-to-use forms. Also, make sure to strategically place clear and convincing CTAs across the site to direct users towards desired actions, for example, sign-up or purchasing.

Analysis and Tracking of Data: Incorporate web analytics applications like Google Analytics to monitor user behavior, and sources of traffic in addition to conversions. These insights can be used to help you improve your website as well as marketing plans.

Regular updates and maintenance: Websites are not static. They need constant updates and regular maintenance. Check regularly for updates and reviews as well as fix broken links and ensure that all features are in place to ensure a smooth experience.

Scalability: Create your site with the possibility of scaling in your mind to allow for growth. If your company expands, your website needs to accommodate the increased visitors and features without sacrificing performance.

Social Media Integration: Incorporate social media buttons and shareable content to invite people to connect with your business on a variety of platforms. This helps increase your online presence and encourages community development.
In the process of choosing the best partner to help your company's online growth, we stand out as the best website development and digital marketing company in India. With a successful track record, We offer a complete range of services designed to meet your specific requirements. As the most reputable web development company in India, we have an experienced team of developers who have mastered designing visually stunning and robust websites. Our dedication to being on top of the latest technology will ensure that your online presence is not just appealing but also up-to-date.
What sets us apart is our reputation as the best digital marketing company in India. We recognize that a powerful website needs to be paired with smart digital marketing in order to fully realize its potential. The team we have assembled is adept at creating digital marketing strategies that are based on data which include SEO as well as creating content, social media, and much more, all of which are designed to increase the visibility of your website and increasing engagement.
Conclusion
In Conclusion, having an effective web presence is vital for new businesses, and adhering to best practices for web development is crucial in achieving this objective. These methods encompass a range of elements that include user-friendly layouts, responsive design simple navigation, and effective performance. They all work together to create a site that is not just able to draw user interest but also turns visitors into loyal customers. A consistent branding strategy and a focus on mobile compatibility also enhance the value of this online presence.